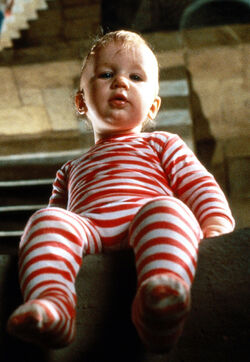 Toby, taken from his bed by the Goblin King, is the reason for Sarah's whole journey through the Labyrinth. This week he's the feature character in the
Fandom in Stitches Quilt and Stitch Along
But Toby is not the only thing going on this week! With only three more weeks of scheduled pattern releases there is so much happening it's hard to keep up.
I forgot to mention last week that we're starting on assembly / finishing instructions.
Last week's post on Fandom In Stitches
included the fabric cutting list for the final quilt layout in addition to the weekly character patterns.
Tuesday also saw the announcement of a 'Design Invitational' for the Labyrinth Quilt.For anyone not familiar with what that is, it's simply an invitation for designers to submit additional Labyrinth-themed patterns. Submissions close on 30 May and all the invitational patterns submitted will be made available on the website on 31 May for people to use when making their own Labyrinth style quilts .
I've been a bit obsessive about this project so I've already started on at least a couple of patterns for the invitational and I'm sure that there will more great designs coming from other designers as well.
Now back to this week's patterns... Patterns for Toby have been designed by Anita McDowell (paper-pieced) and Mel Moore (embroidery). My versions of the embroidery pattern can be seen below.
Week 19 - Toby (mono version)
Designed by Mel Moore,stitched by me
for the Goblin King: Labyrinth Quilt and Stitch Along
Week 19 - Toby (color version)


Designed by Mel Moore,stitched by me




for the Goblin King: Labyrinth Quilt and Stitch Along
This week's post also includes the start of assembly instructions for the quilt itself but I think I might do a mid-week post to tell you about how my cutting and assembly is going.
This week's patterns and part 2 of the assembly instructions are available to download now from
fandominstitches.com
Until next time
K